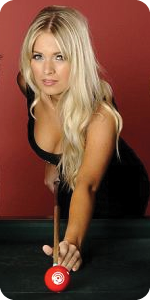 Choice Billiards creates a warm atmosphere.
When you come down to Choice Billiards you will see why we are called "Choice". That's not just a coincidence. We love the people that come here and the people love us. Playing pool, snooker or if you're just hungry, we have it all. We create a warm and friendly environment for our consumers and visitors alike. We have been in operation since 1998 thats twelve years of service and entertainment for our loving community.
Our kitchen is your kitchen.
No one else has service like ours. We are the only place of our kind to have al full kitchen for our customers. From our tender beef kebabs to our crispy fries we can proudly say that people have chosen our cooking to be one of the best in the business. Hell some our customers have even told us that our food is better than some the fancy restaurants that they've eaten at. From coffee to alcohol we hold a wide variety of refreshments to quench your thirst. In addition to that, we make salads, we make burgers we even make you laugh sometimes. Cause we're friends :). If you want a complete list of what our kitchen offers take a look at out menu in the restaurant page.
Pool and Snooker
Being in very competetive field we are often compared with other places of similar interests but we are very lucky to have the loyal customers that we do. Once you're here with us you'll never wanna leave. Especially if you come to play billiards or snooker we have the finest tables of snooker and billiards. Our place holds about 15 billiards and 2 snooker tables. And just for your fun of it we've thrown a foosball table as well as punching machine. Not only are we the most friendliest but we are the largest pool hall around check out our gallery to see for yourself. But here the real kicker. We have the best rates of all pool halls in the area.
In addition to the above mentioned luxuries we've place for our customers eleven HD T.V's and Two Large projectors so that you get the greatest of experience when watching your favourite sports event. Wanna watch football we're in, wanna watch hockey we're in, wanna watch basketball we're in, snooker or billiards tournaments we're in. Even if you're into curling we'll enjoy it with you. We're friends so we don't mind at all if you wanna come for all the above mentioned events.